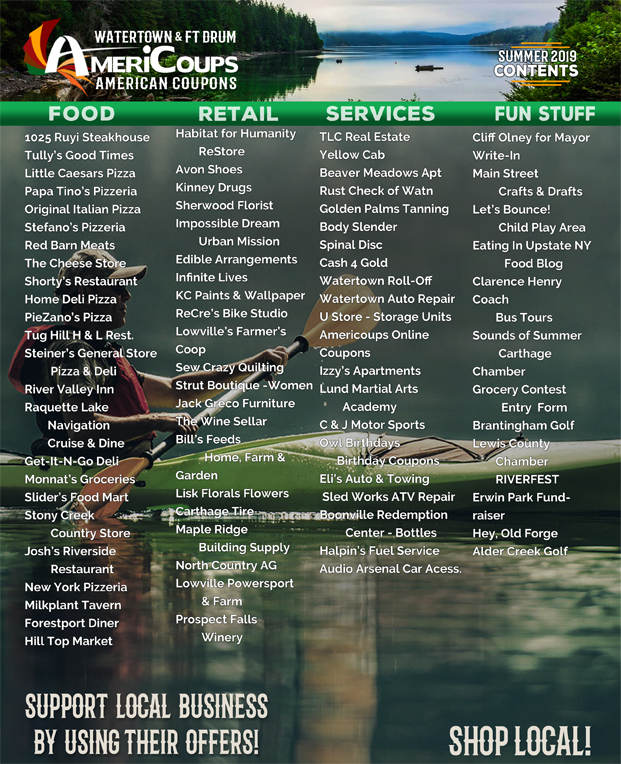 All images on Americoups.com are meta-tagged so search inquiries come to our site. Canadians search for deals before they come to shop in Northern New York. They are finding an downloading your coupons at AmeriCoups.
Our goal: To provide "Mom & Pop" businesses effective, "high quality ad design". AmeriCoups is your small business's "Guerrilla Advertising" answer.
A Direct Mail Marriage Mailing is the most cost effective advertising program a small business can do. Coupons are measurable.
We now mail to 50,000+ homes and business to 4 areas: Jefferson, Lewis, Oneida and Herkimer Counties; including Ft. Drum's military base.
We put all mailed coupons ONLINE so folks outside our mailing zones can download the coupons. The United States Post Office is the most reliable way to deliver your advertising message. AmeriCoups makes direct mail affordable - $.04 per address.
And, you don't need to "give the store away" to attract new customers. We know about a restaurant's food costs.
Our consultants "frame" your offers to actually "split the difference" in negotiating the deal between businesses and customers.
AmeriCoups' professional market consultants will create a U.S.P. (Unique Selling Perspective) for your business. It's exciting to see new customers walking in your door.
We listen to find what is unique about your business and what you'd like to promote.
Once we understand your business, we suggest a design strategy that specifically addresses your advertising needs. We have many references and success stories.
There is no "one approach" to solving a small business's unique challenges.
Each ad is uniquely designed. Curious? We'll be happy to drop off some information for you to review. Call us today for a no obligation consultation at 315-408-1616 Cliff Olney - Americoups